Red Asphalt for suburban pet owners.
Here, for your perusal, is Day Four of the mauling of my right leg. We have a general overview of the carnage, a spectacular shot of the bruising around the major puncture wounds, a nice panorama of the long slashes around my knee, and finally a sexy slice of inner thigh, or at least, a sexy gash on my inner thigh. Be glad I don't have a better macro feature on my camera, or that last picture would include stunning details of clawed-up flaps of skin.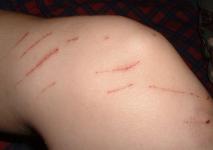 I'm still wondering how much of that bruising was caused by subcutaneous bleeding and how much can be explained by the momentum of fifteen pounds of cat at Angry miles per hour. It kind of looks like he just hauled off and punched me, doesn't it? Local Cat Wins Boxing Title; Feline First In Featherweight; Mittens, Not Gloves, For Newest Champ. Story at 11.
Posted by dianna at October 25, 2005 09:13 PM